Kirinyaga County tops in use of technology and closeness of government services
Kirinyaga County has emerged top in use technology and closeness of government services in a poll released on Monday by a research firm.
In the County Trak Performance Index 2023 by Infotrak Research and Consulting firm, the county scored 55% in use of technology and 54% in closeness of government services.
The high rating can be attributed to a digital revolution spearheaded by Governor Anne Waiguru that is transforming traditional service delivery into an efficient, citizen-centric experience. Through technology the county government has designed and put in place systems that have automated and integrated services thus simplifying them, enhancing transparency and accountability as well as improving efficiency and effectiveness.
One of the revolutionary interventions involves revenue collection and management. Through the KIRI PAY digital platform, business operators in the county are able to pay for their licenses and other services from the comfort of their homes or from any part of the world. They do so by using MPESA mobile phone platform or e-citizen portal that has been enabled by cloud computing technology.  County residents are also able to track various applications and approvals.
Digitization of revenue collection has been hailed as a timely intervention in revenue management and attributed to the county's sterling performance in the last financial year whereby it surpassed its revenue by collecting Ksh. 586 million up from the previous year's collection of Ksh. 363 million.
Integration and consolidation of information has also enabled residents to access services in county offices at the subcounty or the ward level thus saving them from the hustle of travelling to the county headquarters.  Additionally, to ease the delivery of services to the residents, Waiguru established a 'Huduma Center' at the county headquarters. The one-stop shop for all the devolved services is located on the ground floor of the five-storey office block in order to provide accessibility for persons with disabilities.
Governor Anne Waiguru has said that her administration has been in the forefront in mainstreaming use of modern technology in every sector of the county's development noting that technology is a pre-requisite to not only to provision of effective and efficient public services but also to taking services closer to the county residents.
In health, the County government has installed a Hospital Management Information System that has streamlined service delivery at Kerugoya Level Five Hospital, a system that will soon be rolled out in other hospitals.  For effective healthcare provision at the grassroots the county's Community Health Promoters have been using the County Health Information System that enables them to collect, store and transmit information accordingly.
In the agricultural sector, Governor Waiguru has supported the integration of modern technology with the objective of increasing production and productivity. This has been done through distribution of equipment such as on-farm livestock feeds production machines, modern hatcheries, milk processing equipment, coffee value addition lines, green houses, drip irrigation kits and distribution of hybrid seeds and seedlings for various crops.
In the poll, Kirinyaga also topped in trade and tourism, energy, and ranked among the best performers in agriculture, roads and transport as well as county planning.
The governor who is also the Council of Governors Chair noted that getting quality services closer to the people is the true meaning of devolution. "Over 70% of Kenyans endorse devolution and are satisfied with development progress that devolution has made in counties in multiple service delivery functions. As governors, we will continue being more responsive and accountable for delivering the devolution dividends to Kenyans with transformative leadership" said Waiguru.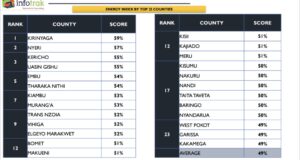 The Infotrak comprehensive public survey covered all the 47 counties, 1,450 wards and a sample of 36,200 Kenyans, among them 600 Kirinyaga residents.